Welcome to the brand new webshop from Vincent's Hobby Shop.
VINCENT'S HOBBY SHOP started in the year 2003. Our first store was located at the theater level of Makati Cinema Square mall. Our main products were mainly Airsoft guns, parts, and accessories. Since its opening, the store gradually developed a continuously increasing clientele prompting its owner to open additional stores.
2003: Makati Cinema Square Mall, Makati City
2004: Cartimar Shopping Center, Pasay City
2007: St Francis Square, Ortigas, Pasig City
2009: Starmall, Shaw Blvd., Mandaluyong City (closed)
2012: Robinsons Place, Imus, Cavite
2013: Starmall Alabang, Muntinlupa City (closed)
2018: Vista Mall, Taguig City (closed)
2019: New Farmers Plaza, Cubao, Quezon City
2020: Festival Mall, Alabang, Muntinlupa City
Our Starmall Alabang store was recently permanently closed because of the fire that caused huge damages to the mall. Our Starmall Shaw Blvd. and Vista Mall stores were both permanently closed as well as those locations did not fit anymore in our future plans to serve the airsoft community in the Philippines.
VINCENT'S HOBBY SHOP is also the first Airsoft gun store licensed and authorized by the Philippine National Police to sell and display Airsoft guns, parts, and accessories.
What makes you different from your competitors?
Our prices evolve on value for money for our buyers.
Our attention to details
Our quality of service
Our passion for airsoft products and customer satisfaction
Our products come from the United States, Germany, Hongkong, Taiwan, China, and the Philippines and are supported by 20 years of our own technical expertise. This mixture of products and our technical capabilities allow us to cater to the requirements of 99% of our customers. Remaining 1%? Well, we can't win them all.
How does our sustainability performance compare with other companies?
Hard work, hustle, patience, resilience & passion for customer service & satisfaction has been the benchmark of John's Airsoft Warehouse. We are here for the long haul & to withstand the test of time.
Vincent's Hobby Shop Q ASIA Magazine Award Winner.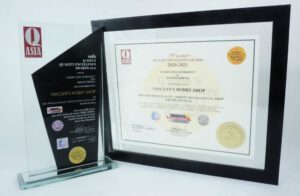 Click on the image to expand it.